Introduction
This informative essay about Burj Khalifa construction explains how the world's tallest skyscraper was designed and built. It starts with the key facts about the building and then focuses on Burj Khalifa project management, risk management, and cost estimation.
The Dubai Burj Khalif Tower Project was a construction project that involved the building of the tallest skyscraper in the world, a project that was overseen by Emaar Properties whose Chairman Mohamed Ali Alabbar, also a member of the Dubai Executive Council, played a most important part not only in its development but also in the growth of Dubai's real estate sector as a whole. Emaar Properties, a Joint Stock Company owned by the public, is one of the leading global real estate companies and the biggest Construction and Development Company.
It was founded in 1997. It is registered under the Dubai Financial Market and a big percentage of the shares are retained by the Government of Dubai. It is also registered in the Dow Jones Arabian Titans Index (Emaar Properties, 2010). It has operations running in over 16 countries globally, including 60 various trading sectors (Emaar Properties, 2010). Some of its properties are in North Africa, North America, the Middle East, Europe, and Asia. The design and construction of the Burj Khalifa Tower were managed by a team that comprised of a General Manager, Sponsors, Project Manager, and various Specialist Managers.
Emaar's vision is to deliver the best solutions internationally as far as the standard of living is concerned. Other than dealing in properties and real estate, Emaar has also heavily invested in other areas like education, entertainment, shopping experiences, finance, hospitality, health, trade, and marketing. They have endorsed a mission in establishing various business sectors that operate as diverse development mechanisms (Emaar Properties, 2010).
The management structure of the company is hierarchical in nature with the Chairman at the topmost level. Next in the hierarchy is the Board of Directors. The subsequent level is Corporate Office management, followed by the levels of the business sectors management. In the management structure, each level is managed by its own Director (Emaar Properties, 2010). The Board of Directors currently constitutes the Chairman, Vice Chairman, and nine other Directors.


Burj Khalifa Project
The Burj Khalifa (previously referred to as the Burj Dubai) is a landmark piece of architecture standing at a whopping 829.8 meters which is 2,722 feet. Construction of the sky scrapper commenced in 2004 and was concluded in 2009. The Burj Khalifa in elevation is the tallest high-rise building in the world (Bianchi & Critchlow, 2010).
The building has an assortment of facilities ranging from residential suites, business premises to luxurious and entertainment amenities. "The architectural design was drawn by Skidmore, Owings and Merrill Architecture of Chicago, the principal service provider being Samsung C&T of South Korea" (Turner Construction Company). "Turner Construction Company, one of the leading companies in construction and based in the United States but also having a subsidiary company based in Germany, won the contract and was awarded as the major project manager of the project," (Turner Construction Company, 2010). The entire project cost for the construction amounted to $1.5 billion U.S. dollars.
The task of constructing a world record-breaking structure was no mean feat. Standing as the tallest building in the world definitely brought a lot of attention to the UAE and Dubai in particular. Rates in Dubai's property market climbed as a result and this caused a prospective inflow of dollars that were channeled through the major industry players; tourism and investment. The residents undeniably get value for money with all the different facilities in place and services compared to no other at their disposal. Investors also realize their forecasts and investment opportunities that pay off.
Despite the accomplishments, there were some issues that arose in the project's implementation that contributed negatively. Delays were experienced as a result of what was described as upgraded finishes by Emaar. Probably what was intended to be communicated was that the upgrades were actually interruptions and hold-ups in getting supplies and in the long run were a concern as far as the project management of this venture was concerned. Furthermore, allegations arose concerning the welfare of the construction workers. Cases of labor mistreatments were reported, with accusations about mediocre housing facilities and conditions for employees, low wages, and the nonexistence of a supportive arrangement in place for their human security requirements inclusive of transportation concerns.
Burj Khalifa Construction
The construction of the Dubai-based Burj Khalifa Tower shows the multifaceted characteristic of large-scale project management. "Emaar Property Company required an organizational structure in place that could maintain this project" (Emaar Properties, 2010). Putting into consideration that "the project was also estimated at US$ 1.5 billion, a heavy-weighted matrix project organizational model best fits this particular Emaar project," (Emaar Properties, 2010). Emaar also employs hierarchical and flat organizational structure models of management. Project management serves as the foundation for all functional units in the project development.
The construction of the Burj Khalifa Tower revealed publicly that the supportive undertakings of architectural designs conceived through the construction of buildings, engineering, assembly, and monitor that is mandatory for an undertaking of this scope. This characteristic of a project indicates that there are a distinct and very well demarcated beginning and end in every project. The organization of a project needs custom-made undertakings to back up this feature and therefore a significant gauge of project realization is how it performs in relation to its timetable: does it begin and end as it is expected to?
Or are there delays, and if so, why are they there and what are the solutions? As such, the Burj Khalifa is definably a project because it is comprised of temporary tasks that have scheduled beginning and ending dates. The project cost is forecasted and this means that the resources available are limited. Like all other projects, it also has objectives and goals that define its establishment. All activities need to be completed otherwise no output will be achieved. Another very distinct characteristic is that it had a budget and a project manager to co-ordinate the activities.
Projects come into existence due to a demand for a particular product or service by the market. In this case, there was a need for upscale and luxurious accommodations as well as office space and other amenities. A project can also be as a result of business necessity for example, the UAE's need to attract more investors and tourists authorized this project. Customer demand can also cause a project to be chartered. For instance, the Burj Khalifa developed the fastest elevator, a design that kept in mind the number of floors that would be contained in the building as well as the 12,000 individuals who would inhabit and work there.
Burj Khalifa also utilized the most recent developments in air current engineering, mechanical engineering, structural schemes, building supplies and procedures. Other features that also result in a project's undertaking are the legal need and a social requirement. The Burj Khalifa Project was an undertaking that had never been performed before; it also ended with the precise achievements it set out to meet. It engaged the services of other partners as well as individuals on an ad hoc agreement plan and all its stages and undertakings were sequenced.
Emaar followed a process that was made up of five stages starting from the project implementation to finishing. The breakdown of activities, as well as the organization of the Burj Khalifa project, depicts all the deliverables, which included:
The conception of the Burj Khalifa project
Selecting the construction site and proceeding to calculate the valuation on all variables (codes, legal statistics, risk factors, financial aspects, human resource management and construction, building supplies).
Picking service providers for the architectural designs, engineering and construction workmanship.
Contracting and employing personnel for the project.
Scheduling procurement and distribution of supplies.
Selecting subcontractors for other specific inner construction activities such as the swimming pools, health, and sports facilities and elevators.
Utilizing EVM as a technique of evaluating and tracing project management.
This itemization structure of the project's activities is very broad-spectrum. Therefore the Work Breakdown Structure (WBS) is able to be very specific, as it should be. This is with a 100% rate of extensive research and 100% jointly limited in attaining all the significant fundamentals of the project. A level 1 WBS is, for instance, used to illustrate at a macro scale the problems that needed to be looked into when coming up with the micro-scale needs of the project (Haugan, 2002).
Risk management focuses on assessing risk in a project. In the Burj Khalifa project, this issue is vital in operating this scope of a project. Risk in project management is associated with the possible damage that may come up as a result of a particular activity, and how this will finally affect the projected development of the project. "Despite the fact that risk can be positive or negative, project management leans towards focusing on the likely negative effects, so that it can alleviate grave results," (Edwards & Bowen, 2005).
Risk management strategies that can be employed in project management include passing on the risk to another party, moderating the risk factor, circumventing the risk, and accommodating some aftermath of the risk as a cost of the project (Edwards & Bowen, 2005). As far as the project of Burj Khalifa is concerned, there were a few hazards and dangers that occurred probably as a result of unknown phenomena rather than weaknesses in planning and building methods of the skyscraper structure. Another organization that carried out a similar project benefited from the findings and avoided the hazards and dangers of the project of Burj Khalifa. In regulating the possible risk, the Project manager in charge of this phase often exploits a risk management log (Turner Construction Company, 2010).
Projects are ultimately defined by time and as such have a life cycle. Terminating the project at the final phase is the ideal phase of project conclusion, as most probably the project objectives are recognized. The ending phase of a project involves the listing of findings which are analyzed and summarized for records. This is very important for future references in connection to the project's implementation, whether successful or not.
During this phase, other important information gained in the course of carrying out the project and which is capable of influencing the future project's undertakings in other locations is very well maintained. Looking at the projects that have been handled by Emaar Company, the Burj Khalifa is not the first major construction project the company has handled successfully.
The Emaar Company has therefore provided the Burj Khalifa project with a much-envied history of successful accomplishments even if they have not been of the same magnitude. A post-project analysis of the Burj Khalifa project would require observing at each phase of the project development and contemplating the matters that stood out during each phase.
Burj Khalifa Project Management: Time Scale & Cost
The office space cost estimation per square foot reached a sum of US$4,000 which amounted to over US$ 43,000 per square meter. The company chairman of the project's Burj Khalifa developer, Mohamed Ali Alabbar, also estimated in March 2009 that the total cost would come to roughly US$ 1.5 billion. As a sales forecast, the Armani Residences, situated also in Burj Khalifa, were to be sold for US$3,500 per square foot (over US$37,500 per square meter).
The project's accomplishments occurred together with the worldwide economic crisis that took place between 2007 and 2012. UAE was also experiencing a big boom in the construction industry within the country and as a result, there was the growth of the industry which led to plummeting of costs and sudden closure of different businesses. Dubai was stuck in debt from its investments and overzealous project projections. The government was then forced to make multi-billion dollar loans to be able to bail out of the debts it had incurred. It approached Abu Dhabi which was minting a lot of money from its oil deposits and oil production wells.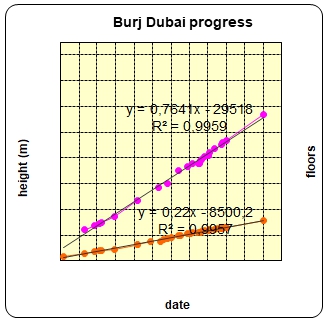 Most projects are not really time conscious, especially at the beginning. This is nothing to be worried about. So it is safe to always make a time plan that is not too elaborate. It is also advisable to plan for any risks because anything is bound to happen. In each phase of the project, some kind of flexible structure should be in place to accommodate any eventualities.
In case the project has a deadline that cannot be moved, it is best to organize the time plan such that the end of the project is set to a prior date. Next would be to work backward from that date. This way, there will be improved project planning. Projects which fall back in terms of meeting set deadlines and whose presentations are delayed or which incur extra costs than what was budgeted for or go as far as unsuccessfully meeting other monetary supplies many times result in weighty complications.
Many managers who plan such developments are forced to conclude and deliver projects earlier than was expected and at a more cost-friendly schedule than is ideal for any business venture. Determination and targeting high objectives are noble assertive characteristics, but planning short of appropriate forethought and accountability is foolish.
Stakeholders and managers are seldom inclined to make an inquiry into a plan that is too defined, but they will be quick to make very callous resolutions when any exaggeratedly determined project begins to come to a halt. Establishing a little levelheadedness and practicability of any situation at the beginning of a project concerning cost estimations and time schedules can protect one from a lot of enormous amount of anxiety and other issues that may arise later.
Burj Khalifa Project Control & Audit
Project control systems should be indicated separately from the main function and deliverables of a project established as an independent function in project management. It applies confirmation and monitoring function during the rolling out of a project so as to strengthen the distinct operational and well-prescribed goals. Other activities of project control systems include: putting in place and establishing a structure that promotes the delivery of correct information as well as keeping this information updated.
There should be a standard way of sharing inconsistencies of project constraints. Either a project information-based technology should be developed centered on an intranet or the project control system should make use of a project key performance index system (KPI). Discrepancies in analysis and production of applications for prospective project guidelines should be established as well together with methods to achieve a proper project arrangement, project workflow organization, project control, and authority.
There should also be the formation of clearness among the project constraints. Achievement and enactment of these undertakings can be attained by employing precise procedures and mechanisms of project control. Many methods and skills for project administration are available for application. The following are just a few among others: analysis of dangers and hazards, lead and lag time estimations, project profit, and losses evaluation, budget estimation, and record updating and storage.
Project control is that component of a project that keeps in line with set objectives, as scheduled, as far as time is concerned and within the financial plan. Project control begins at the onset of the project with planning and comes to a close later on in the project after the enactment of the project has been accomplished and an evaluation has been made.
Every project should be evaluated to be able to come up with a suitable level of control required. Excessive control takes up a lot of unnecessary time whereas too little of it is very precarious. If implemented wrongly, project control can affect a business in terms of cost, and as a result, it all needs to be made manifest in relation to the miscalculations, solutions, and assessment dues. A project cannot do without control systems because they are required for costing, hazard assessment, value, consultations, time, any necessary amendments, purchases, and personnel.
"Auditors should deliberate on the significance of projects to the financial statements, how dependent the investors are on controls, and how several controls are in existence," (Edwards & Bowen, 2005). Auditors should also evaluate the progress of the project process and methods as to the manner in which they are realized.
The entire process of development and the value of the resultant product can be evaluated if the need arises or if there is a demand for it. A business may require the auditing firm to be on the team for the entire life span of the project process. This way, they are able to spot any complications beforehand before they spiral out of control. At this instance, they can be fixed more simply. In project management, an expert assessor is usually hired to carry out quality inspections and assurance for the whole project. The assessor is a member of the project management team.
Companies in some cases utilize formal systems development processes which aid in ensuring that systems are developed effectively. These kinds of formal processes are better at making strong controls, and auditors should go over this development of the entire project process to check that it is properly created and is adhered to in the real sense.
A reliable formal systems development plan has a strategy put in place that is supported by the organization's broader objectives, policies that manage any standards put in place for new systems, project management policies for proper time management and financial control, processes defining the development as well as an estimation of the value of change.
Conclusion
The project management concept is not foreign and the contemporary perception of this field has been shown to include various models of project management, as well as phases within each model that can be accepted after considering the organization in question and the scope of the project. In all projects' implementation, there are many stages involved from the start to the completion of projects. Along with each and every stage, there are unique methods that are handy for application.
The project of Burj Khalifa is a typical example of such projects. Recommendations were in place to use expert techniques in management of dangers and hazards that could arise and also in overall project execution and administration. The Burj Khalifa construction project is complete. For now, the administration of the magnificent tower and its facilities is under the Emaar group of companies. This ultimately requires an altered approach of project management to be on par with the company's objectives.
References
Bianchi, S., & Critchlow, A. (2010). Worlds Tallest Skyscraper Opens in Dubai. Wall Street Journal, p. 1.
Edwards, P., & Bowen, P. (2005). Risk Management In Project Organisations. Burlington: Butterworth Heinemann.
Emaar Properties. (2010). About Emaar.
Emaar Properties. (2010). Management Structure.
Emaar Properties. (2010). Mission, Vision, Strategy, and Goals.
Haugan, G. (2002). Effective work breakdown structures. Vienna: Management Concepts.
Turner Construction Company. (2010). Burj Dubai.