Introduction
Support and guidance of various projects across different companies and business ventures is the primary function of Project Management Offices (PMOs). PMOs ensure that the work on the undertaking is executed in compliance with the stated project objectives and satisfy all customer requirements (Paton & Andrew, 2019). Thus, project managers should be aware of the different stages of the project life cycle to direct the team's efforts efficiently and ensure a satisfactory product is delivered. This report will consider the customer role in the project life cycle, various uncertainty factors, and the complexities of an international project. Furthermore, it will address challenges in PMO management, how leadership style can affect project development, and discuss the importance of audit in determining project maturity level.
Project Management
Customer Role in Project Life Cycle
The customer plays a crucial role in the life cycle of any project. Traditionally, five stages are distinguished in a development life cycle. They include initiation, planning, execution, monitoring and controlling, and closing (Aston, 2021). During the initiation stage, the client outlines project needs and conditions that need to be followed. Although the project manager can help correct specific requirements to align them with the customer's vision, only the client can approve all specifications and allow the team to move on to the next stage (Aston, 2021).
Similarly, in the following steps, the customer provides resources and funding, authorizes project execution, and confirms whether it was successful. It is important to ensure that the client is satisfied with each project life cycle before proceeding with the following ones. Thus, customer satisfaction indicates whether the discussed requirements were accomplished. Moreover, it is vital to satisfy the client to ensure more projects are awarded to the company, the project team, and the PMO.


Uncertainty Factors in Project Management
It can be argued that all project life cycles involve a degree of uncertainty. In project management, uncertainty is often associated with risks to the project's development and successful completion (Daniel & Daniel, 2018). It can appear if "decision-makers cannot consolidate past observations to form a subjective probability or relative frequencies for the future" (Daniel & Daniel, 2018, p. 189).
The execution stage of the project life cycle can be viewed as the most uncertain one due to the challenges of organizing the work of different teams, managing timelines, and ensuring agreement with the initial plan. For example, uncertainty can occur if the client request changes to the project, resulting in delays. New personnel additions to the project team involve a high level of uncertainty as it is difficult to predict employee-related uncertainties when working with new staff. Overall, PMOs need to be able to adjust to arising challenges to ensure project completion.
Working on Global Projects
The business field is becoming more international, with companies from different countries engaging in collaborations. Projects commissioned by several organizations with different cultural and historical backgrounds present a significant challenge. When managing a global project, it is necessary to account for differences in cultures of the stakeholders, language barriers, time zone differences, and lack of team coherence within the framework of the global business environment (Bhullar, 2018).
Thus, differences in cultures and languages can lead to misunderstandings when discussing the project and giving instructions to the team. In addition, terminology may vary in different countries, and employees may misinterpret instructions and work under false assumptions. Furthermore, time zone differences can impede communication and information exchange between teams. This can result in personnel in one country failing to get crucial data for their assigned tasks and delay the project. Lack of understanding of legislation and business regulations in different countries can also contribute to the project not being viable in some countries. Overall, PMOs should be aware of these differences to build a comprehensive model for working on the global project and ensure its delivery.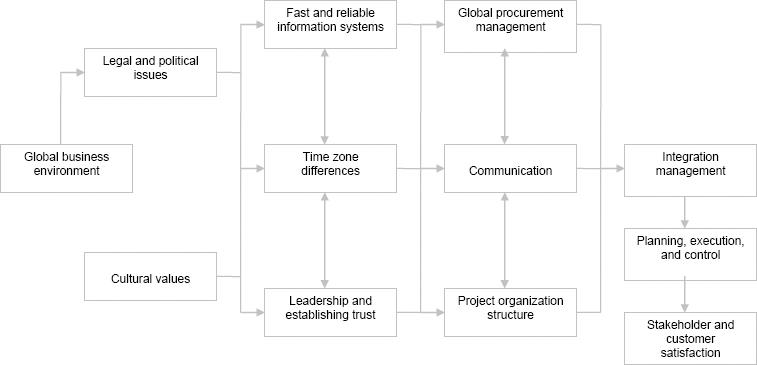 Challenges in PMO Management and Organization
There are many substantial challenges when organizing and managing PMOs. Poor communication presents a significant challenge for managing any complex departments or organizations. Inability to communicate assignments, metrics, timeliness, goals, and objectives of the project to different teams working on the same project can translate into confusion and disarray among groups or individual employees. It is vital to communicate client requirements and expectations to organize workflow throughout all project life cycles efficiently.
Resource management is another challenge in PMO management and organization. Managers should ensure that the available resources for the project are sufficient to cover all life cycle stages and to account for unplanned delivery gaps and customer-mandated changes. Overall, communication and resource management need to be addressed before the initiation and planning stages of the project and revisited during later phases to ensure project completion.
Leadership Style Impact on Project Success
Different leadership styles can influence project success as they directly impact the work of projects teams. Thus, transformational leadership is a style that can inspire employees to "transcend their own self-interests for the benefit of the organization" and make the required changes in their work (Alqatawenah, 2018, p. 18). Project managers can inspire staff through motivation and support, offering help when needed and allowing them to work in a mode comfortable to them. For example, managers can clearly outline team goals within a project and provide workers with a vision to work towards, ensuring that each achievement is celebrated.
Establishing a positive environment within the project team and fostering team spirit can translate into project success as all employees are actively engaged in it. In contrast, micromanagement can lead to employees losing interest and dedication to their work. Excessive control and over-involvement in the team's day-to-day routine can result in the project being of insufficient quality.
Establishing Project Maturity Level
From a project management perspective, an audit of an organization is important as it allows to determine strengths and weaknesses that might be detrimental to the project development. In addition, a project audit allows PMOs to decide what changes to the organization they should make to ensure project outcomes are satisfactory both to the customer and the PMO. An audit or a project management maturity level assessment can also help determine any existing gaps in the project. The maturity level of an organization can be measured by using the Project Management Maturity Model (PMMM) that allows evaluating PMO's current capabilities, strengths, and weaknesses in handling various projects (Permana et al., 2017). PMMM accounts for such factors as time, quality, cost, resource, and communication management in the organization and when working on a project (Permana et al., 2017). Overall, project management maturity level assessment can help identify the organization's weaknesses and offer a framework to address them.
Conclusion
In summary, project managers lead their teams to the completion of the project negotiated with the customer. The report notes that clients may be involved in every stage of the project life cycle and request changes to the initial plan. This, along with other factors, presents uncertainty for project managers. In addition, global projects provide additional challenges as managers need to account for different cultures and the global business environment when leading the project team. Overall, managers play a vital part in project completion as their leadership style affects the team's work, while project management level maturity allows determining the PMO's assets and vulnerabilities.
References
Alqatawenah, A. S. (2018). Transformational leadership style and its relationship with change management. Business: Theory and Practice, 19(0), 17–24. Web.
Aston, B. (2021). Project management life cycle: Complete guide to project delivery process. The Digital Project Manager. Web.
Bhullar, P. S. (2018). Global project management-challenges and barriers. Asian Journal of Management, 9(1), 717–722. Web.
Daniel, P. A., & Daniel, C. (2018). Complexity, uncertainty and mental models: From a paradigm of regulation to a paradigm of emergence in project management. International Journal of Project Management, 36(1), 184–197. Web.
Paton, S., & Andrew, B. (2019). The role of the project management office (PMO) in product lifecycle management: A case study in the defence industry. International Journal of Production Economics, 208, 43–52. Web.
Permana, V., Sucahyo, Y. G., & Gandhi, A. (2017). Measuring information technology project management maturity level: A case study from a project based organization in Indonesia. 2017 International Conference on Information Technology Systems and Innovation (ICITSI), 1–13. Web.