Discussion
Haynes (2002) defines project management as "an undertaking that has a beginning and an end which is carried out to meet established goals within cost, schedule and quality objectives" (p.3). Bringing together and making the best use of necessary resources required to complete the project. These are skills, talents and cooperative efforts of a team of people; facilities, tools, and equipment's, information, systems, techniques and money (Haynes, 2002).
The Purpose
Lock (2007) states that "the purpose of project management is to foresee as many of the dangers and problems as possible and plan, organize and control activities so that projects are completed successfully in spite of all risks" (p.1). The projection of ideas and activities into new endeavors is a common feature in all projects. These involves planning, coordinating and controlling various types of activities in modern industrial, commercial and management change projects ( Lock, 2007). Project management has evolved over many centuries. Cleland and Ireland (2006) stated that: "an early rudimentary form of project management was used over the centuries in the creation of aircrafts and cultural enhancements in world societies" (p.20).
According to Choudhury (1988), an organization must grow for the sake of its survival. Therefore, it must be in the look out for new ideas that may require growth either in the existing lines of business or diversified areas. The ideas must be technically feasible, economically viable, and socially acceptable. Upon fulfillment of these ideas, an investment proposal is made and approved leading to the commencement of the project (Choudhury, 1988).
Background
Rapid industrialization and the demands of weapons during the World War I saw the emergency of management scientists who studied people and productivity in factories. Their management models were generally not appreciated as they were inflexible to change, tedious to translate into working schedules thus impractical and difficult to use. Bar charts were generally preferred that allowed rescheduling using movable magnetic or plug in strips. These were prominently displayed on office walls. Different projects moves through a predictable life cycle of four phases that require different skills from project managers namely; conceiving and defining the project, planning, implementing and finally completing and evaluating the project (Haynes, 2002). Projects come into being gradually and others fade out slowly. Many projects have their actual beginning and end dates with significant dates in between these recognized as key events (Lock, 2007).
Before committing any resource, project management plan should be started well and has to be continued until all work is completed. As a methodology, project management continues to advance both in its application to different situations and in refinement of the process for a wide variety of efforts. Project management has evolved to become the principal means for dealing with organizational change (Cleland & Ireland, 2006).
Economic pressures of today's industrialized world, greater completion between different firms with greater regard for value have contributed to the development of new project management ideas and techniques as compared to the earliest civilization (Lock, 2007). Today's management organization structures have existed from early times mainly in the military, churches and civil administrations where projects have been successful (Lock, 2007).
The Aim of the Project
The aim of the project management is to ensure that the results of a project are satisfactory to all the stakeholders within the stipulated timescale without using extra resources than those originally budgeted for the project. Today project management is widely known and acknowledged as an efficient means to convert resources to create something more valuable (Lock, 2007). The main aim is to achieve the assigned goal by managing the environment people and resources. To achieve the aim of project management; principles of planning, controlling, organizing, staffing, directing, motivating, monitoring, communicating and decision making apply (Kohli, 2006).
Objectives
The main objectives of project management are time, performance and cost. They are the factors that drive the project contractor and should be aligned with the expectations of the project owner. Project management objectives are directed towards achieving project goals, which could be summarized as delighting the client and creating commercial success to the contractor. Many projects must satisfy more than these two stakeholders for instance the financing institutions who have a keen interest in the success or failure of the project (Lock, 2007).
Quality, time, and cost are the project parameters during a projects life (Haynes, 2002). Quality objectives depend on the nature of the project like performance that is at least equal to the project specifications, reliability and freedom from malfunction, useful long economic life, low operating and maintenance costs and environmental friendly. A project must function reliably, efficiently and safely in regard to the initial intention (Lock, 2007). Quality considerations extend well beyond projects and are regarded as equally important in the service industries and other projects. Lock (2007) confirms that "the actual progress has to match or beat planned progress" (p.20). The major phases in a project must be started in the initial specified time to ensure the project result in full finishing point on or before the planned deadlines. Late completion of projects will not please the client hence degrading the contractor's market reputation. Usage of more resources than initially planned can disrupt other projects that are in progress or waiting to follow. A project that is not started on time will definitely not finish in time. This can be due to legal or planning difficulties, shortage of information, lack of funds among many other reasons (Lock, 2007).
Business Case
The project's business case must be flowed down along with the requirements to levels of decomposition. Projects are driven by the business case in response to economic opportunity or threat. It substantiates the need for the project and the expected outcome created by the development of the solution. Return on investment and the break even point are metrics that are often estimated and quoted in the business case to justify the project. In government projects, the business case is used to deal with threats and threats mitigation. Flowing down of the business case, it takes a different form and is represented by solution criticality, risk, budgets and schedules. (See figure 2 for more information) Satisfaction of these criteria must be assured (Mooz, Forsberg & Cotterman, 2003).
Benefits
The ultimate benefit of project management is to have a satisfied client. Completing the project scope in a quality manner, on time and within budget provides a great feeling of satisfaction. A project delivered in time, within budget and in line with its specifications will provide the contractor with a good profit, beneficial publicity and a warm glow of satisfaction. However, if the client discovers that the project fails to live up to the expected standards and does not deliver the return on investment, he/she will perceive the result as a failure (Lock, 2007). Shortcomings during the early period of a project can condemn a project to almost a certain failure. Phase 1 to 6 is the project definition stage of a project on which the decision to authorize or disallow the project start will predominantly depend on. Foundations for success or failure are laid down at this stage.
Projects that have a relatively short duration do not involve large amounts of capital expenditure and are relatively easy to manage. The life cycle of a project begins with the authorization of the work on the projects to the time of handing over the desired end product to the customer. Some project purchasing and fulfillment duty can usually begin well before the completion of the designing phase (Lock, 2007).
Unlike the small projects, capital or large projects have many more phases and involve many stakeholders and public interests. Projects begin as concepts that individuals or organizations recognize for a project hence forming the initial idea that justifies more exploration. Phases 1 to 4 comprise of formative period which should end with project proposals or business plans that describes the project, sets out the fiscal requirements, anticipated benefits and the most important objectives. Projects with significant potential environmental or social impact might require to be subjected to public inquiries and prolonged planning applications thus delaying the start of the actual project (Lock, 2007).
Once the project definition has been put down, agreed upon and funds made available, the project can be authorized to start. In phase 7 and 8 which constitutes the start up period, appointment of the project manger and provision of office space and other accommodation only then can the actual project start. The project manger arranges for detailed planning and mobilization of the workforce. Phases 9, 10 and 11 cover the periods of design, procurement and construction. Handing over the project to the client is only done after the contractor has carried out commissioning and trials to ensure that the project will be fit for its intended purpose which is phase 12 and 13 of the project (Lock, 2007).
Costs
During the formative period and definition phases, some expenditure must be made by the owner of the project. A feasibility study costing large sums of money might have to be commissioned to explore the risks, benefits and best strategies to carry out the project (Lock, 2007). Project design provides the initial input regarding equipment, drawings, purchase specifications and bills of materials. Materials management provides information on actual material and equipment prices to be used. Planning provides information on required materials and their actual receipt dates. Estimating and materials management provide input on estimated materials and equipment costs for each cost account to the budgeting module (Harrison & Lock, 2004). Information on actual prices and materials usage is fed back to both the cost management and material management modules to monitor actual usage against estimated, ordered and stock. This is because many projects run out of stock or use more than they ordered which must be controlled (Harrison & Lock, 2004).
Much of the finance raised for major projects is likely to be invested in work in progress as the project proceeds through the execution phase. Quality can be achieved without extra cost. The contractor can only charge the client for work that can be confirmed as fished. The work completed has to be inspected and certified by an independent quality surveyor before it can be charged out of the customer. Late submission can invoke the humiliation of contract cost penalties. Therefore it is clear that if work is clearly monitored and managed so that it proceeds without any disruption against the initial project plan, costs control will be successful. Most projects are expected to be completed within the primary objective of time, cost and performance. The key components of project management costs may be found in figure 1 (see appendix) The true measure of a project success or failure depends on how the project outcome is perceived by all the stakeholders (Lock, 2007).
Tasks
Some organizations prepare project execution plans to mark this phase (Choudhury, 1988). Effective project planning and early team involvement are crucial to successful project team management. Team involvement in the early stages of a project builds enthusiasm towards the project, team morale and ultimately team effectiveness. Proper planning involves all the stakeholders including support departments, management and subcontractors because project leaders need to integrate various tasks across functional lines (Cleland & Gareis, 2006). The key tasks of the project management are given on Figure 3.
Project teams managements requires proper infrastructure conducive to cross functional teamwork technology transfer. This includes clearly defined interfaces, task responsibilities, reporting relations, communication channels and work transfer protocols. Work process is systematically described through conventional project management tools that include; project character defining the mission and responsibility of the project organization, a project organization chart defining the major reporting and authority relationships, a responsibility matrix, a project interface chart, such as the N – squared chart and job descriptions (Cleland & Gareis, 2006).
Precedence Chart
The precedence system is of notation is preferred and has emerged to be dominant due to flow diagrams that can be more easily understood, notations that allow clear illustrations of activities whose starts and finishes do not coincide directly with their immediate predecessors and successors and precedence networks can widely be supported by computer software (Lock, 2007). The flow of work in a precedence diagram is always from left to right. The diagrams are not drawn to scale and codes are given for computer processing. Codes range from small serial numbers to complex alphanumeric codes. Gantt charts are always drawn in linear timescale. They are excellent visual aids and their effectiveness can be enhanced by the use of different colors. They are useful for every simple resource scheduling because the amount of any particular kind of resource needed in a given period of time can be calculated by adding the number of times the task needing the resource appear in each period column (Lock, 2007).
Periods
Phases
1
2
3
4
5
6
7
8
9
10
11
Initial Preparation
●
●
●
●
Planning
●
●
●
●
●
Design
●
●
●
●
Application
●
Team Creation
●
Control Adjustment
●
●
Executing
●
●
●
●
●
1ststage
●
●
2ndstage
●
●
3rdstage
●
●
●
Closing
●
●
●
Quality Control
●
●
Staffing
Investigation into the characteristics of project management will enable an organization to understand the problems that occur during staffing. In the project environment personnel performance and policy are the major problems that can occur. Project management is only successful when the project manager and his team are dedicated to the successful completion of the project. Each team member must have proper understanding of the project requirements. The least complex and uncertain projects require different type of staffing management unlike those with the highest levels of complexity and uncertainty. Considering the fact that staffing is performed during the entire process of project management, it may have several purposes, depending on the implementation stage:
| | |
| --- | --- |
| Phase | Staffing |
| Initial Preparation | Executive team is selected for designing, controlling and closing the project |
| Planning | Executive team plans the phases of the project, as well as defines the team requirements for finding designers, managers, planners and other experts for successful division of the responsibility spheres |
| Design | Department managers are getting acquainted with the project, and its implementation plan. Leaders may define the necessary amount of executors. |
| Application | |
| Team Creation | Final division of the teams in accordance with the responsibility spheres. |
| Control Adjustment | Working communication links are adjusted. |
| Executing | This involves the possibility of team's turnover. |
Risk Management
Special crisis management contingency plans must be made in order to prevent the impact of some risk events that can have potential impact on a project. Plans for risk management must be set up to deal with the sudden crisis. Once the possibility of a crisis has been established, the first step is devising a contingency plan to identify the key people who will take charge of the crisis management project (Lock, 2007). (Figure 4)
The Purpose of the Document
Management change project of any significant size will usually require a charter and contract (project initiation document) procedure. Some organizations invoke a lengthy authorization procedure that consists of a project charter followed by a contract. The document sets out the principal objectives and is prepared for consideration and approval by the company's senior management. It establishes the project in the organization under the nominated project manger (Lock, 2007). Documentation involves all the necessary statements of the management process in general. Therefore, all the aspects, phases, and statements of the management process are stated in the documentation (Figure 5)
Conclusion
A project life cycle is determined by the period between the beginning and end of the project. In this case there are three key players in a project life cycle namely the client, contractor and the project manger. The client is a person or an organization that wants to by the project and put the end product into use. The contractor is the organization that is responsible to oversee the project. The project manger is the person employed by the contractor or client so as to plan and manage all the project activities to be completed in time, within its budget and its specifications (Lock, 2007).
References
Choudhury, S. (1988) Project management. Noida, Tata McGraw-Hill.
Cleland, David and Gareis, Roland. (2006) Global project management handbook: planning, organizing, and controlling international projects. 2nd edition. Dubuque IA, McGraw-Hill Professional.
Cleland, David and Ireland, Lewis R. (2006) Project management: strategic design and implementation. 5th edition. Dubuque IA, McGraw-Hill Professional.
Harrison, F and Lock, Dennis. (2004) Advanced project management: a structured approach. 4th edition. Aldershot, Gower Publishing Ltd.
Haynes, M. (2002) Project management: practical tools for success. 3rd edition. Florence KY, Cengage Learning.
Kohli. (2006) Project management handbook. Noida, Tata McGraw-Hill.
Lock, D. (2007) Project management. 9th edition. Aldershot, Gower Publishing Ltd.
Mooz, H., Forsberg, K and Cotterman, H. (2003) Communicating project management: the integrated vocabulary of project management and systems engineering. John Wiley and Sons.
Appendix
Figure 1. Project Management Costs.
Costs
Jobs
Costs per day
Total
(one worker / team)
Notes
Leader
200
2200
11 days
Plan Design team (x3)
140
1540 / 4620
11 days, including quality control and closing
Dep-t Leaders (x4)
140
1120 / 4480
8 days (After team creation phase)
Team Workers (5 per team)
130
650 / 3250 / 13000
Executing phase – 5 days
Technical Team (x4)
180
1980 / 7920
11 days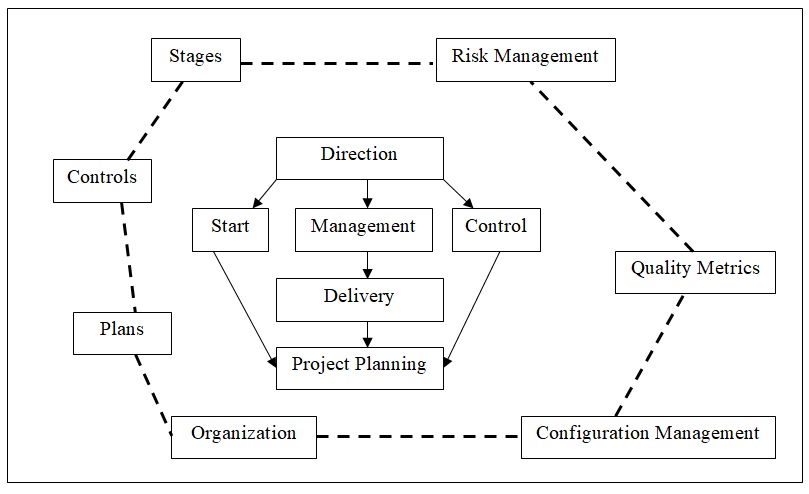 Figure 4. Risk Management.
Communication break risks
Likely impact if risk does occur
Likelihood of risk occurring
L
M
H
L
M
H
R
Injury of an executive team member
Likely impact if risk does occur
Likelihood of risk occurring
L
M
H
L
M
H
R